Level up your growth engine with a SaaS marketing coach
Get practical advice, assignments, and weekly syncs with one of Kalungi's fractional CMOs to kickstart, guide, and refine your marketing function.

When you're making key marketing decisions around positioning, pricing, and building your website, getting advice from someone who's done it dozens of times before is essential.

Your coach can help you make the most out of those early and important choices.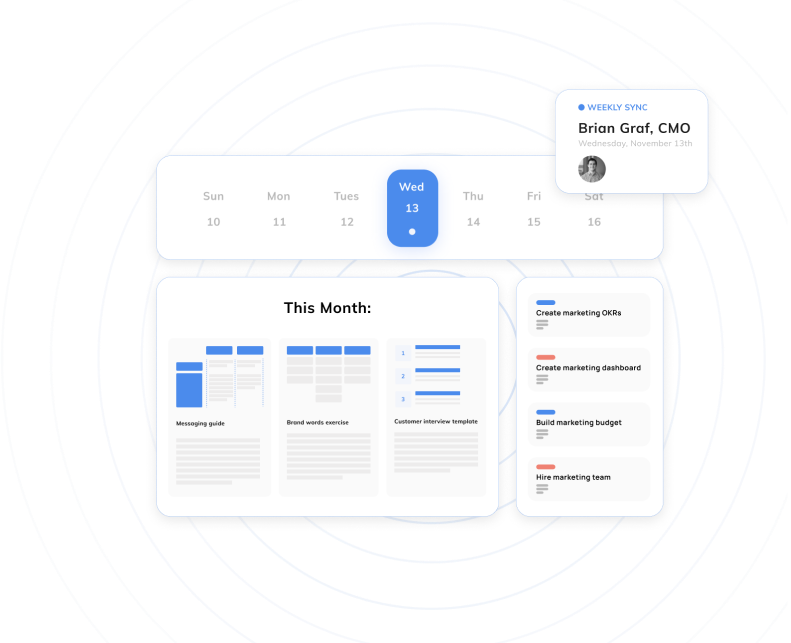 Who's it for?
CEOs who are doing the CMO job on the side

CEOs who want a foundation in marketing before hiring a marketing team

CMOs who are new to the Job, SaaS or B2B, and want to speed up their ramp

What's it for?
An experienced CMO who has your back when you make big decisions

Learning marketing best practices and don't reinvent the wheel

Get from Minimum Viable Product (MVP) closer to Product-Market-Fit (PMF)

Using seed investment wisely or for help in raising Series A money




Build your Marketing Function in the right sequence, with minimal resources
What You Get
Hands-on, practical advice and assignments to get your Marketing going
Weekly meetings with your CMO Coach executive mentor to discuss key initiatives, challenges, organizational issues, and communications opportunities
Ad-hoc access to your CMO Coach as things pop up during the week
Continued challenge to build your Marketing function to drive growth.
The Right CMO
Every situation and person is different.
Kalungi will pair your marketing lead with a CMO who has the experience that matches their marketing development needs.
Why It Works
Our CMOs take on the day-to-day responsibilities of your marketing leader who is responsible for leading the marketing charge and delivering results
These CMOs also serve as seasoned marketing executive who's "been there, done that" for decades, is the perfect formula for professional growth and as a result, business impact.
How You Meet
The rhythm of a weekly one-hour meeting creates a tight professional focus.
The use of Google Meet or other similar video meeting technology allows your marketing lead to meet with the properly matched CMO from anywhere in the country.
Meeting weekly ensures a solid rhythm for discussing top priorities and related issues.
Quarterly check-ins with the CEO or supervisor keep everyone on the same page and allow the company to track progress in professional development.
OUR TIERS
Find the level of coaching that fits your needs
Tier 1
The monthly retainer for our Coaching program starts with a Mentor service, including the sharing of all SaaS B2B Best Practices. In this case, you do the work and our coach is focused on making your Marketing Leader successful.
Tier 2
If your Coach needs to take more ownership of marketing success our Coach will hold them accountable. We will take ownership to help your Marketing Leader deliver results. Think of this package as the Coach for a sports team who is held accountable for your marketing leader's success.
Tier 3
Finally, an Advisory Coach for your organization can own a specific project, and deliver results. This provides all the Coaching benefits, but will not only own a strategic project, but also participate in your Executive Team.
Looking to start building your marketing function?
Our team will walk you through our unique model and help you get set up with the guidance of a CMO experienced in B2B SaaS marketing.