Profit
The real test for SaaS companies comes in the final phase, Profit. At this stage, companies strive to maintain an accelerated growth rate as they hit scale while also balancing growth and profitability.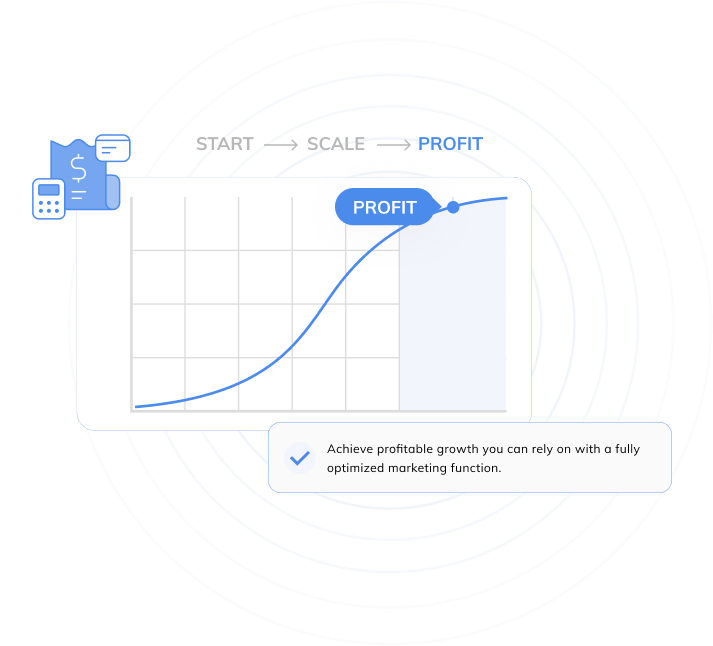 Who's it for?
CEOs who want to pay-as-you-go and pay-for-performance

SaaS companies with changing marketing needs

SaaS companies optimizing their global marketing organizations

Marketing teams that want to move quickly before a long-term leader is in place

What's it for?
Getting to profitability while sustaining a healthy growth rate

Optimizing the marketing team for a diverse set of growth needs

Getting on the PE/IPO radar

Getting to late majority, broad market adoption
Profitable ARR
To get to 40% and stay there, you need to start making a profit
CTS
Now that you are doing everything at scale, you need to get your cost under control – sales, marketing, support, operations, and retention.
LTV
Customer Lifetime Value: The combination of continued ARPU with low churn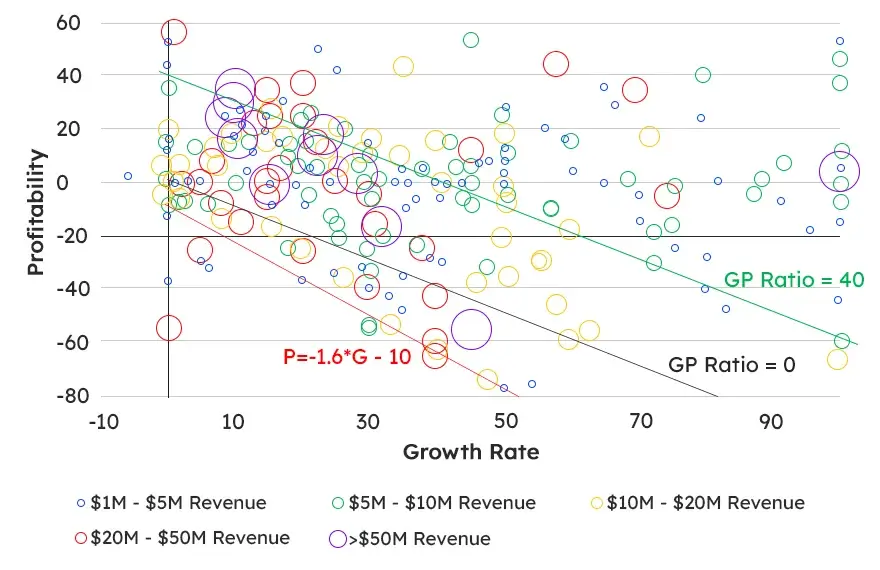 Private equity firms and later state investors have accepted that SaaS companies can compensate profitability with subscriber and ARR growth. The "40% Rule" is a method to make sure these are in a healthy balance.
The rule states that your growth rate plus your profit should add up to 40%. So if you're growing at 30%, you should be generating a profit of 10%. If you're growing at 40%, your profits could be as low as 0%. If you're doing better than 40% total, that's awesome.
Think of 40% as a magic number to get serious interest from private equity financing firms and might even land you an IPO.
Your marketing leadership needs will be constantly changing in this growth stage. You now need to go after the "late majority" of the market, which includes specialization in specific market segments or industries. Here are some examples:
Opening international subsidiaries

Expansion (segments & verticals)

Consideration of inorganic growth (M&A) to speed up market entry or solution completion

Developing a distributed marketing team across countries or segments

Diversifying your channel marketing across resellers, distributors, OEMs, etc.

Developing products for specific industries or verticals

Preparing an IPO (initial public offering)

Developing a plan to monetize your intellectual property

Evolving legal agreements as they support or inhibit marketing

Addressing potential competition with yourself (older products/plans)

Grandfathering early adopters (customer) into new pricing plans
Flexibility
As your company grows, the marketing team will get bigger, and the scope of potential work they can do will grow faster. The challenge is that some CMOs are more experienced in the art of marketing, others in science. To scale you need both.
The same flexibility offered with the SCALE Plan (bringing in CMOs with different types of expertise as the needs of your company change) applies to the PROFIT program. This service is optimized to give you the right SaaS CMO expertise to address all the challenges you'll encounter.
You've got the growth, now let's make your marketing function the best it can be.
Meet with our team and start exploring strategies for profitable, sustainable growth.