Scale
After you reach Product Market Fit, your investors now expect you to deliver multiple years of exponential revenue growth. The SCALE Plan allows your marketing functions to grow as your company grows.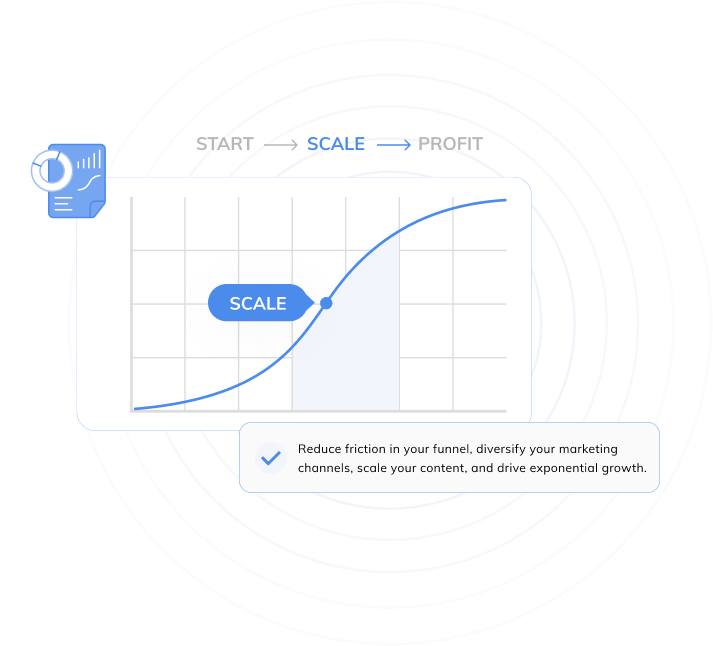 Who's it for?
Executive teams that don't see results while marketing costs go up

SaaS companies with fast-changing marketing leadership needs

Marketing teams that want to move quickly before a long-term leader is in place

What's it for?
Removing marketing as a growth inhibitor and limiting outside agency dependency

Ensuring growth marketing leadership while searching for a permanent CMO

Crossing the chasm to the early majority customers

Raising your next round of funding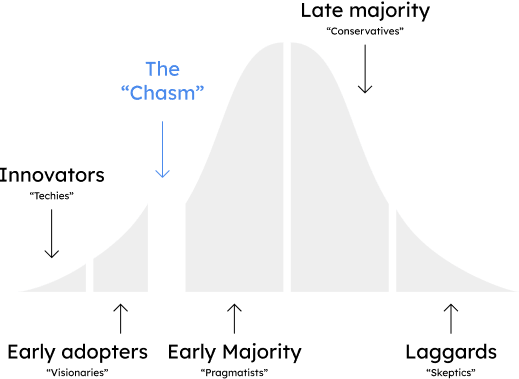 Cross the chasm
The chasm represents a fundamental shift in marketing needs as your audience will now want to see "proof" of your benefits before they buy, and they will be deciding based on pragmatic, usually economic grounds. Using a different approach to market segmentation as your product category matures is crucial to effectively reach the right type of "Product Market Fit" at the right time.
KPIs
ARR, ARR, and ARR – how can you drive growth exponentially?
Get CAC below LTV
Get Customer Acquisition Cost (CAC) below Customer Lifetime Value (LTV)
Reduce Churn
Reduce churn and fix any "leaky buckets" before pouring in more cash
Improve ARPU
Improve Average Revenue Per Unit (ie. users, customers) and grow deal size.
Marketing to scale your ARR
Your marketing needs will change dramatically over the course of this growth curve, and our team of CMOs will be able to bring in the right experience at the right time.
Our CMOs can:
Make difficult positioning choices

Launch a global channel program (VARs, OEMs, ODMs, ISVs)

Move your brand upmarket and build an enterprise ABM system

Optimize your "house of brands" or "branded house"

Build an effective influencer marketing capability

Organize regular customer or partner events

Turn your content marketing into an organic "growth flywheel":

Manage your current vendors to ensure optimal ROI

Coordinate a "big splash event" such as a product launch

Raise a B or C round of financing
Additionally, our agency services can:
Move your brand upmarket and build an enterprise ABM system
Turn your content marketing into an organic "growth flywheel"
Increase your SEO rankings, so your company is found by the right prospects
Automate your marketing efforts by implementing and managing your marketing CRM
Rebrand your website so that it accomplishes your business's goals by displaying the right content, the right way, in the right place.
Even the most experienced CMOs don't have all the answers. Some CMOs are more experienced in the art of marketing, others in the science. To scale, you need excellence in both, which our flexible service can provide.
Our CMO-as-a-Service programs allow you to get in and out as you require. The typical duration of the SCALE Phase varies from 1 to 5 years. This service is optimized to give you the right SaaS CMO expertise to address all the challenges you'll encounter.
The importance of T2D3.
While only a small percentage of companies grow to $100M in 5 years, this focus on ARR growth is crucial and has to be holistic. You cannot fall into the trap of just focusing on lead generation or customer success. MQL, ARPU, churn, and CAC all need to be addressed together to get ARR (or MRR) to scale exponentially. That's where T2D3 comes in.
T2D3
Triple your ARR two years in a row
Then double your ARR three years in a row
Easy? No. Doable? Very hard, but it can help with your next round of funding. We can help:
Implement nurture and retention programs to reduce churn
Optimize marketing channels and lower your Customer Acquisition Cost
Improve funnel speed and conversion by reducing friction
Drive upset disciple and automation to improve ARPU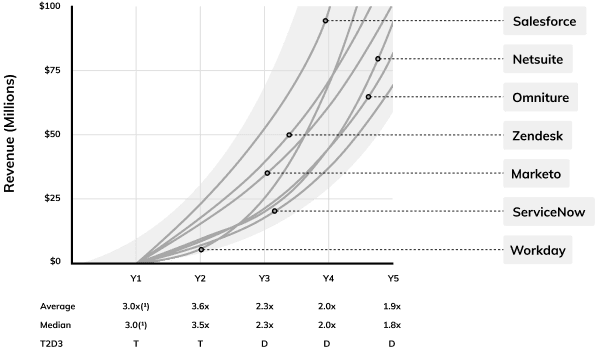 Is it time to start scaling your marketing function?
Schedule a meeting to learn how we can hone, diversify, and scale your marketing to drive exponential growth.