Getting meaningful compensation data for the Chief Marketing Officer for a SaaS Company is hard. Executive pay is highly distributed and can be a mix of various equity components that make comparisons difficult.
For this blog, I used various reports from Indeed, Glassdoor, Payscale, Spencer Stuart, Korn Ferry and LinkedIn to create a table with my estimates.
While the tenure of the average CMO keeps falling, pay keeps going up. The CMO role keeps growing in prominence, which explains the rising compensation. Base pay has grown on average 6% last year, and benefits by 3%.
Location, location, location. That's still the biggest influencer of what a CMO gets paid, despite the rise of virtual teams and remote work. The below analysis is based on a CMO with at least 10 years of experience in the Marketing field, and experience with SaaS Marketing. She/he has experience leading teams and is a member of the Executive team of an organization with at least 50 employees.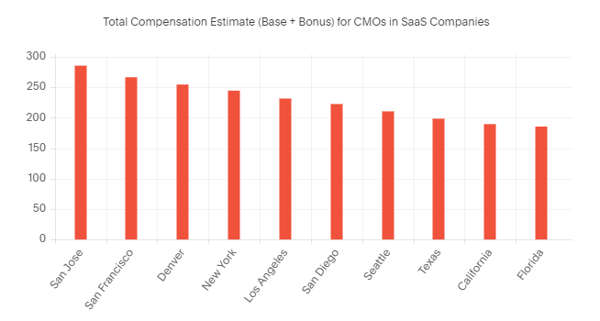 Direct Cost
To calculate the total cost of having a Full-Time CMO I assumed a 30% uplift for benefits. CMOs don't often get commissions. I've ignored equity since the future value of that is hard to calculate (especially since CMOs have low average job tenure and equity usually does not turn into a lot of vested value).
The following is based on the averages of the above cities:
Base Salary: $222k

Bonus: +$38k (OTE = $260k)

Benefits: $78k (Cost = $338k)
This brings the monthly cost to your P&L for having an experienced Software CMO to ~$28k per month.
If you hired your CMO with support of an Executive Search firm and paid another 30% of annual compensation. Assuming an average tenure of a CMO in the SaaS sector of 30 months, your cost per month will be closer to $32k/Month. If you have to pay severance when you part ways with your CMO this could be $33k-$35k/Month.
Many SaaS companies with less than 100 employees cannot afford a CMO with the right level of experience. But there is an alternative.
Indirect Cost
Other cost to consider is the time it takes to find a full time CMO. A prolonged search to find the "perfect fit" could prove to be fatal. The market does not wait. Your SaaS Company will likely also develop different CMO needs as it grows. It often turns out to be difficult to find the right fit for the evolving needs.
CMO-as-a-Service
There is an alternative to consider as well. Interim CMOs, Fractional CMOs, and CMO-as-a-Service offerings are common in Europe and are making their way into the US. They all try to offer the right level of experience and service for Small and Midsize SaaS companies while keeping it within an achievable budget.
Benefits of Interim CMO's
Used to coming up to speed quickly, and providing value early

Saves the recruiter commission, and search time

No long-term commitment (and exit package)

Nature of consulting business means interim CMO's are current in latest tools, best practices, etc.

Matches the need for flexibility, underscored by the short tenures of CMOs in SaaS

Interim CMO's bring a network of connections that can be leveraged for speed (hiring, influencer marketing, social media presence, vendor support etc.)
Examples