The B2B SaaS marketing agency to supercharge your growth
Kalungi offers a robust playbook combined with a full-service marketing team to empower software companies in creating and implementing their go-to-market strategies for unprecedented growth.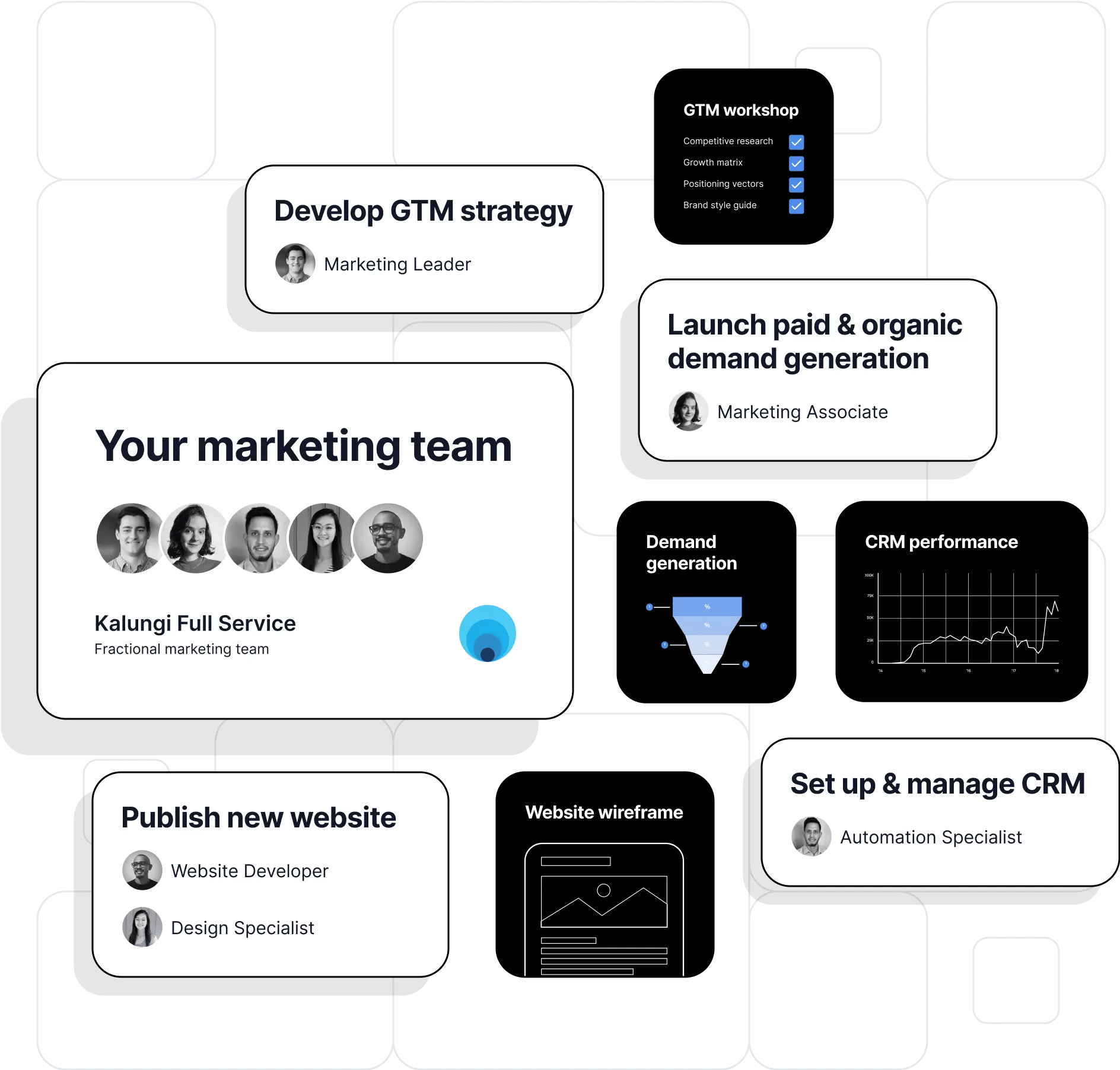 WATCH THE VIDEO
See how we can work together
OUR CLIENTS
Companies we have worked with
These are just a few of the many incredible clients for whom we've had the pleasure of developing and scaling their marketing function.
DON'T TAKE OUR WORD FOR IT
What our customers have to say
I've encouraged a number of other companies to work with Kalungi. We had nothing and have built something that is great, a sophisticated marketing engine. I had high confidence that Kalungi's SaaS marketing team could do that and I didn't have to worry about it. That was a huge load off of me."
Kalungi has a recipe booklet, if you will, for what a company like ours needs to do, and in what sequence, to define our brand and bring products to market. This was huge. Equally were his marketing resources that we could draw upon with his team at Kalungi. And his willingness to mentor and bring up to steam our in-house marketing people."
Building your marketing foundation
Getting your business to the next level is all about hitting the right groove. From starting up your business to scaling it to the top, we offer a variety of specialized SaaS growth marketing services for software companies and packages that provide results fast.
HOW WE HELP
The three stages of B2B SaaS growth

$1M TO $10M ARR
Get your company from MVP to Product-Market Fit and lay the foundation for growth.

$10M TO $100M ARR
Drive exponential growth, scale your marketing team, and level up your marketing functions.

$100M+ ARR
Explore new verticals, diversify your marketing channels, and optimize costs-to-service.
HOW WE HELP
Get the marketing support you need
Full-service support
SaaS marketing team and leader
Get a full-stack, instant B2B SaaS marketing team—backed by an experienced CMO and our proven growth playbook.
Coaching
Fractional SaaS marketing leadership
Kickstart and refine your marketing function with the guidance of one of our SaaS CMO coaches.
Audit
A 95-point inspection of your marketing
Get a complete assessment of your marketing function, including a 90-day tactical roadmap, led by our team of marketing specialists.
WATCH THE VIDEO
A complete marketing function launched.
"Working with Kalungi was a no-regrets move, for sure. They have set the bar for marketing."
We'd love to work with you
Join 70+ successful B2B SaaS companies on the path to achieving T2D3 with our SaaS marketing services.