Your content strategy is one of the best ways to boost website traffic, establish yourself as a thought leader, provide valuable information to your prospects, and showcase your product.
Search engines are the most relied-upon method of looking up content in the modern world. People trust search engines to have the right answers, which is shown by how Google bears over 63,000 searches a second, with 15% of them being completely brand-new with no previous search history.
One of the greatest technological advancements allowing this is that search engines have the intelligence to determine their user's intent. You've likely experienced this firsthand. Whether you've searched a misspelled term but still reached the right results page or googled a song lyric to find a song you like, search engines recognize when you're looking for related content.
If you aren't familiar with the topic cluster concept, here's the TL;DR:
Topic clusters are comprised of related keywords.
Pillar pages are long blogs (~2000 words) that relate to all the topics in the topic cluster.
Cluster content are all smaller blogs (~1000 words) of content for the keywords in the topic cluster. They will link back to the pillar page.
Why should you use a topic cluster strategy?
Increase website authority
Provide relevant, valuable content to your prospects
Make it easier for Google to crawl your website
Increase SERP rankings
An organized website, through topic clusters, helps search engines like Google navigate all your related content and therefore increases your website's visibility and search rank. This is important because, by gaining a higher rank on your desired search results page, you establish your brand as a thought leader, industry expert, and client resource.
It also offers a logical content path for readers so they can continue exploring similar topics they are interested in across your website. Your content will ensure they stay on your website longer, which reduces your bounce rate and helps prolong their consideration of choosing your company's service or product.
To learn more about topic clusters and their value, check out HubSpot's blog.
Here's the thing about topic clusters: once you know what they are, there are many different ways to approach the research and writing portion. This means it's easy to get stuck and, at times, lost. So the question is, what's the best way to come up with a well-researched big-picture plan?
I'll walk you through the best practices I use when planning content for my topic clusters. Once you have this foundation, it'll be easy to map out your content calendar for each quarter.
Organize your topic clusters and keywords with our free template
Prioritize your research

Make quarterly planning easy

Collect all your thoughts and research in one place
Step one: gather your resources
Before you start your big-picture plan, you need to get organized. This will help you minimize distractions and focus on the most relevant keywords. I recommend gathering the following:
SEO research
Organized topic clusters & appropriate keywords
Top competitors
Current content audit
It will then be helpful to know which topic clusters are the highest priority, which leads me to step two.
Step two: prioritize your high-priority topic cluster keywords
When brainstorming topic clusters, consider who your target audience is. Categorize your various prospective customers based on their buyer personas, the semi-fictional representations of your ideal customer characteristics, likes, fears, and challenges.
Consult SEO research to gain valuable insights into content your target audience enjoys reading, questions they commonly have, and problems they are looking to solve. In using keyword research to see which topics are highly searched for, you gain a great indicator of how well your content will perform, as well as the competitive density of the particular keyword.
One of the best ways to narrow down your focus is by identifying 1-3 topic clusters that are your top priority. This will help you focus your efforts. In addition, I recommend aligning with key stakeholders and picking your top 10 focus keywords that you want to show up on Google. Your quarterly marketing goals will also play a role in which keywords you focus on.
By identifying these focus keywords and topic clusters, you'll not only have a starting point for research but a plan for the first several quarters as you focus on what matters most. With this knowledge, you can also identify quick wins. For example, if your prioritized keywords happen to fall under a high-priority topic cluster, you can work on a pillar page and the prioritized keyword first.
Step three: organize your information
Now it's time to organize everything. If you download my Trello board, it's already set up and ready for you to start plugging in your information. Add one topic cluster per column and edit the labels to match, so that even when you move your Trello cards around, you'll still know what topic cluster you're writing for.
After that, it's time to add the appropriate keywords. If you have a lot of research, I recommend starting with your prioritized topic clusters and keywords. If you tackle these in one session, you can add other topic clusters as your time allows.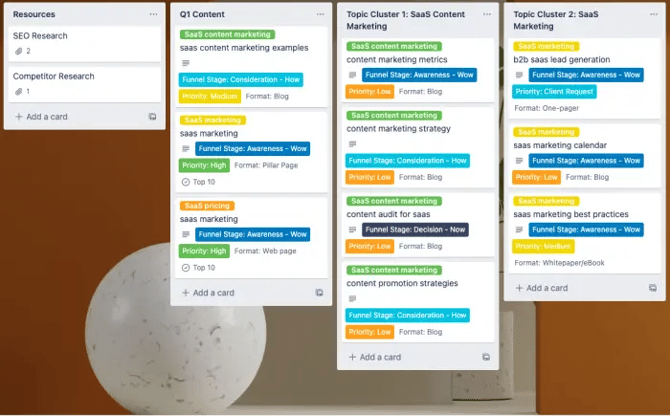 Step three: research
This refers to your keywords, Google, and your competitors to come up with title ideas and the actual content for your blogs, whitepapers, eBooks, etc.
When it comes to research, there are two core different ways to approach it.
Research keywords in real-time as you add them to the appropriate column in Trello
Add all the keywords to the Trello board first and then research one topic cluster at a time
Whichever method you choose, it's important that you cover all your bases during the research process. If you completed a content audit prior to going through the SEO research, keep that handy. Then, for each keyword, do the following:
Google your keyword for inspiration pieces, title ideas, and related searches
Look at your top competitors to see how they've covered this topic or keyword
Use a tool like SEMrush to see the highest-ranking pieces of content for your keyword
Use your content audit to see if you have anything that relates to your topic
Not only are you looking for inspiration, but you are also looking for ways to add value. Did your competitor fail to fully answer a question? Is there room to expand? Make notes as you go—you are chasing the highest value add to help your prospects.
You can also use this opportunity to expand keywords to match what your prospects are looking up or edit the language to better match your results. You don't need to reinvent the wheel and create net-new content every time—you can instead build off of what already exists.
Pro tip: After Googling a keyword, I like to click through the "people also ask" for more content ideas. If you want to take it a step further, you can plug those questions into a forum like Reddit. This will help you get to the heart of what your prospects are looking for.
As you follow each step, fill out the Trello card for that particular keyword with:
Relevant website attachments
Title ideas
Funnel stage
Person
Keyword intent
Priority or top 10 keyword
Content format (blog, webpage, eBook, infographic, etc.)
Related keywords you can include or write about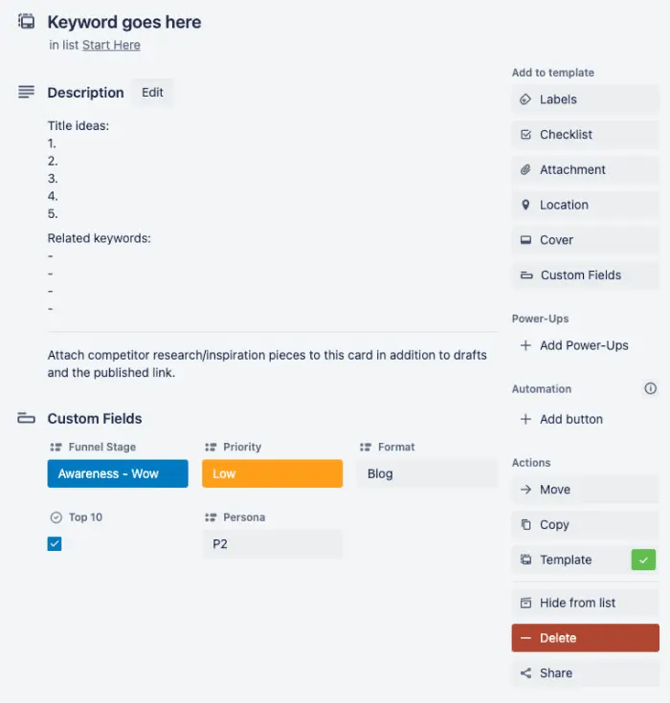 Step four: align with goals
The goal of a big-picture plan isn't to act on it right away. It's to:
Get an idea of the landscape surrounding your product or market
Gather your resources so you can meet specific goals
Without goals, your next steps won't be clear. Do you want to rank quickly for specific top keywords? Build authority around a topic cluster? Put out a wide range of Awareness content to build your authority?
Align with your key stakeholders, then use your expertise to inform how best to approach the goals and the content for each quarter.
Remember, you prioritized your keywords and topic clusters for a reason. Once you've completed that research, you can start creating content while working on other topic cluster research in the background.
Step five: audit your existing content
Before you begin writing an onslaught of new content, make sure to audit your old content. This can help you make your content marketing more efficient as you can manage and repurpose old content that is still relevant.
By performing an internal content audit, you gain the opportunity to:
Delete duplicate content
Determine information gaps you need to address in future content
Categorize existing content into new topic clusters
Clean up content links that are performing against each other on the SERP
Note which pieces of content are performing best for further strategy insights
Once you have identified your most relevant topics, reviewed keyword research, and gained insight into what your next steps are to optimize old content, you'll have better insight into what new content you should be planning out.
Step six: create quarter-specific calendars
What's the best way to meet your goals? By going one step at a time. You can create a column in your Trello board for specific quarter goals. Drag your intended keywords there. Then, use this bite-sized information to fill out a content calendar in a tool such as Google Sheets or Asana to track your progress and results.
If you have to present a calendar for buy-in, it's much easier to show off 12-16 pieces of content for the quarter versus 100+ from your initial SEO research. To minimize going back and forth between your Trello board and quarter-specific calendar, I recommend keeping Trello just for research & big-picture organization. Make incremental changes and updates on drafts, publishing, and rankings on the calendar.
Step seven: building your first pillar pages
The first step to building your new library of content hubs requires creating main "pillar" pages that provide content for your chosen topic phrases.
A pillar page doesn't have to be complicated. In fact, it's best as a long-form blog post or website page (approximately 2,000 to 5,000 words) that is visually organized and information-dense so your readers can navigate it easily. The main goal is to use strategic formatting to help them quickly find the information they're looking for. However, make sure you are not sacrificing writing quality or the overall reader experience with your pillar page's organization.
This page will then act as a core piece of content that contains links to more specific subtopics. Some tried and true examples of these complementary subtopic pages include:
Fundamental blog posts that are a go-to format for cluster and subtopic content
Whitepapers that serve to report on a topic and show readers a valuable solution
Case studies that show relevant real-life scenarios
Fact sheets that explain measurable pros and cons, success rates, etc.
Infographics that use visual representations to entice readers to skim through data
The pillar page and its subtopic content should have a two-way relationship, with both of them linking to each other. All links back to your pillar page from content must have the exact topic phrase within the hyperlink. Alternatively, by including all your relevant links to content on your pillar page, search engines can recognize it as being the hub of your topic.
This is a highly effective way to gain online visibility and can often cause your pillar page to rank higher than your linked content so it's important to make sure it is well-written and continuously updated.
Getting started with your content for your topic cluster strategy
With so much information available, it's no wonder that getting started can be the hardest first step. I hope that this Trello board helps you set up a foundational organization system so that you can get started and create content calendars that meet your goals and provide the best information for your prospects.
If you want to learn more about content strategy, writing, and SEO, check out our other resources:
Happy researching!
Organize your topic clusters and keywords with our free template
Prioritize your research

Make quarterly planning easy

Collect all your thoughts and research in one place
Get monthly executive SaaS marketing advice in your inbox
AUTHOR
Amanda Browne
Amanda is passionate about all facets of a brand's digital presence. She has a background in writing, editing, project management, and digital marketing. She has degrees in Communication and Creative Writing and enjoys tying her creativity and attention to detail to storytelling and problem-solving.