What happened to the 4-5 P's of marketing? Looking at many examples of modern T-Shaped marketing job descriptions, there seems to be less focus on the marketing fundamentals than there used to be.
Especially now that Search Engine Marketing and SEO are becoming less effective, and Google rewards doing the basics well, it's time to dust off our appreciation for traditional marketing competencies. The things that are taught in an MBA or by Seth Godin. You can't get by with just growth hacking. You need both.
What is a T-Shaped Marketer?
A T-Shaped marketer is someone that has expertise in one to three areas in marketing while still maintaining knowledge around other marketing elements. For example, a content marketing specialist may have deep expertise in content & SEO, pulling from a foundational knowledge of research, user experience, and positioning: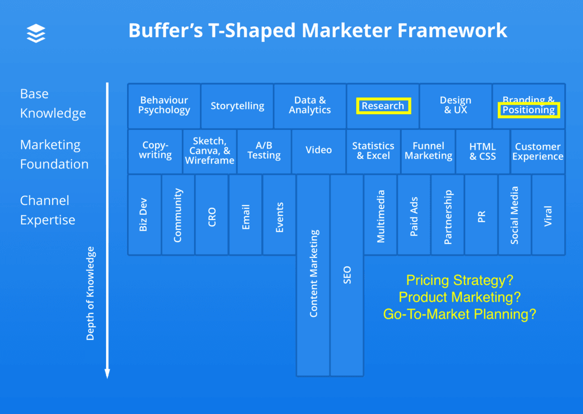 This creates a well-rounded familiarity with many important marketing elements necessary for a company, with deep expertise in one or two subjects. They have a general knowledge with one specialty. That's why it's so important to become a T-shaped marketer.
The T-Shaped Marketer And Product Marketing
When I work with starting software companies, the biggest "gap" in their marketing team is usually traditional product marketing.
While you don't need this on your team starting day one, I think this should be at least part of your 3rd of 4th marketing hire's focus:
Positioning - What's it for? Why is that relevant? What's, are we best at?
Pricing - Not just the price on your website, but real pricing strategy grounded in market dynamics, monetization strategy, cost and value-based pricing models, and keeping GTM options flexible for future strategy changes.
Placement - How do we Go-To-Market? Direct vs. Channel models. Where do we go to the market? What are the trade-offs? Some guidelines

here

.

People - Who's it for? Why are we relevant to them? Why are they relevant to us?

Promotion - How do you turn a blog or a product release into an integrated, well thought out, multi-channel marketing campaign?
To become a T-shaped marketer for your company, start with the foundational marketing knowledge. Then, ask yourself: "What do I excel at?" "What is my super power?" "What can I do better than others?"
Here are some ideas on the sequencing of hiring your marketing team.
Get monthly executive SaaS marketing advice in your inbox
AUTHOR
Stijn Hendrikse
After 15 years of experience in the Software Marketing Industry, Stijn adopted the SaaS model to launch Kalungi, a marketing agency that specializes in assisting B2B SaaS companies.