A privacy and security software company
How does a ready-to-scale B2B SaaS company take the next step without a well-defined roadmap of how to do so?

That was the challenge facing Matt Redlon, President and CEO of Clario, a data and machine-learning solution that helps retail companies improve the efficiency and effectiveness of their marketing efforts.
Until they met Stijn Hendrikse* and the team at Kalungi.
Full (Inbound & outbound)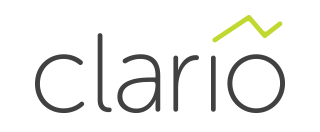 Search engine optimization
WHAT CLARIO HAD TO SAY
Don't just take our word for it
"I would strongly recommend Stijn for any B2B Saas marketing engagement. His bandwidth is astounding. He brings a great amount of intelligence, experience, and flexibility to the table. He'll take what you have and where you are and bring you where you need to be. And help you get the most bang for your buck along the way.
We interviewed several digital agencies with a great deal of experience in bringing retail and commercial packaged goods to market," said Mr. Redlon. "But no one had the depth of experience in the software-as-a-service and product marketing categories we needed."
Clario's biggest need was to find someone who could define and build a go-to-market plan that they could follow, develop needed marketing content, and attract the right people to execute that plan - from scratch. No easy task.
The great thing about Stijn,"continued Mr. Redlon, "is that he has an extremely well-thought-out process that was evident from our very first question. We asked who our initial hire should be for our marketing team.
"Not only did Stijn recommend the first role we should fill, he also displayed a Trello board that showed a blog article he had written on the subject, explaining the first five marketing roles a company should fill and in what order. Not only that, he had developed job descriptions for each position and a timetable as to when you should hire them.
"What's more, he brought that same level of detail to every aspect of a B2B SaaS go-to-market strategy, from positioning and messaging to content development to what KPIs to measure."
Stijn has a unique background that allows him to easily relate to B2B SaaS entrepreneurs. Early in his career, he was a software developer. Later he spearheaded the launch of Microsoft Office 365 in the small to mid-business market in Europe and the U.S. More recently, he has launched marketing functions for several successful startups, including MightyCall, Acumatica, and Atera.
As most software-as-a-service entrepreneurs will tell you,"said Mr. Redlon, "bringing your company to market is a roller coaster of emotions. We're quants. We're not easy to talk to or understand. Stijn has the ability to bridge that chasm between respecting the entrepreneur's vision and the realities of product management.
"We hired Stijn in a 120-day, quick-strike capacity. He's helped us define our offering and position in the marketplace; develop pillars of value and vehicles for content; define our voice and visual style, and hire our first growth marketing team member. And through it all, he's given me great peace of mind. We're well-positioned to take it from here.
"I know I'm certainly sleeping better at night thanks to our work together."
As mentioned, Clario helps businesses make the best use of their time, energy, and resources. It turns out that the same can be said for Stijn Hendrikse.
- Matt Redlon, CEO

*Pronounced "stine."
You might also be interested in these similar case studies

Situation
At 20 years old, Ascend had been quite successful without marketing. A channel partnership produced a lot of new business for its accounts payable software. But, with new investor funding, they needed more.
Services
Company stage: Scale
Marketing leadership: Fractional CMO
Agency services: Varied
Situation
BP Logix is well-known for providing a process and workflow platform for the higher-education market. So, it came as no surprise that when looking for marketing help for their B2B SaaS-based company, they sought an agency that had a proven process in place.
Services
Company stage: Scale
Marketing leadership: Fractional CMO
Agency services: Full (Inbound & Outbound)
Want to be one of our success stories?