As a B2B SaaS company, any marketing content you create is crucial to selling your software products.
From nurturing customers to lead generation, one-pagers are an effective and powerful tool for sales enablement throughout both the inbound and outbound buyer's journeys.
In this blog, we'll cover: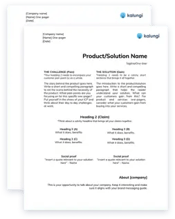 Download our one-pager template
It's hard to fit everything you need to say in one page (or two). Download our template to prioritize and organize your content effectively.
We'll tell you a secret - all of the examples below were designed with this template!
Marketing one-pagers are critical to the buyer's journey
First impressions are everything, and a one-pager is a great way to deliver a first impression that lasts for your product or services.
Simply put, a one-pager is a one-page document that summarizes your business products or services in a clear and succinct way. And for B2B SaaS companies who haven't taken advantage of one-pagers, you're missing out on a critical marketing asset that you can create quickly and easily.
The objective of your one-pager should tie into your B2B SaaS content marketing strategy, specifically to educate your customer, create brand awareness, and nurture your contacts as a middle-of-funnel content piece. Think of it as a poster or flyer in today's digital age.
Here are some examples of different uses for one-pagers for your B2B SaaS company:
Sales pitches to potential investors
Product overviews
Service overviews
Competitive differentiators
Promotions and discounts
However you decide to use one-pagers within your SaaS organization, follow our guidelines and iterate with your sales, content, and design teams.
Three benefits of a B2B SaaS One-Pager
Here are some of the benefits you and your audiences gain by utilizing one-pagers to position and market your B2B company's products or services:
Quick, easy communication. Time is an incredibly important asset to your customers and business. Not everyone has the time to read through a 20-page business proposal, so it's a great way to capture the most pertinent points of your business's product or services.
Control your company's narrative. It's easy to fall into the trap of over-communicating your services. A one-pager is a great way to gain clarity and focus on your business, as well as the journey it's gone through to create that solution.
Grab and focus attention. Your prospects see hundreds of one-pagers all the time. So make sure your one-pager has all the right information and design work connected to your brand style guide

.
The anatomy of a high-converting SaaS one-pager
Content and design play a pivotal role when creating an effective one-pager.
It will require buy-in and alignment from your marketing and sales teams, but let's not forget the final approval from your executive team.
And remember, when brainstorming for the solution or product one-pager that there is a difference between the two. While a solution is comprised of multiple products that solve your customers' pains, your product is the foundational block for that solution.
Ask yourself these questions as you brainstorm one-pager content ideas with your marketing and sales team:
1. Target Audience
2. Pain points your solution addresses
What issues or challenges our solutions or service is going to solve?
What customer pain-points are we solving?
Which

value proposition pillar(s)

are we communicating?
3. Solutions and gains
Why is your solution worth investing in?
How will your solution improve the lives of its users?
How is it different from others?
What's your value proposition? Brand promise?
4. Product or service overview
What are your product/service's core features, and what are the benefits of each feature?

Summarize these benefits into easily digestible content to keep your audiences engaged.
Include a call to action (CTA) to convert readers into the next stage of the buyer's journey.
5. Company overview
Who are we?
What do we do best?
Why does our company exist?
What metrics can we leverage to provide further proof of our services?
What social proof can we include that relates to this service or product?
Design elements for your company one-pager
As previously mentioned, content and design are crucial in creating a compelling one-pager.
The more appealing it is to your target audience, the more ROI you'll receive through lead generation. It's all about capturing your ICP's attention and keeping these prospects engaged as they read your content.
As you begin designing your SaaS one-pager, consider including the following elements:
Your company logo and branding elements
Logos of well-known customers
Illustrations, icons, and images
Easy-to-understand diagrams
Relevant data and statistics
Short quotes and social proof
Your call to action (Hint: this should include your contact information, website URL, and any other next steps in the buyer's journey.)
It's crucial to get the right balance between text and images in your one-pager. If your sections are too long, you'll lose your prospect's interest quickly.
If you have too many images or illustrations, you'll also confuse your prospects. Just as you would cook up a meal, it's all about having the right balance of ingredients to cook up a delicious and unforgettable meal.
Question: Can my one-pager be more than a page?
As a rule of thumb, one-pages should be a single page. However, if you're distributing this digitally, you can use two pages (front and back of one page) to communicate and get your point across.
Use your best judgment and try to remove any unnecessary information, redundancies, and content that's not hyper-relevant to your messaging and goals. If your content doesn't fit within one designed page, limit yourself to two pages.
Good examples of company one-pagers
We've included some one-pager examples below to illustrate how closely content and design must work together to deliver the appropriate copy and visuals.
What's more, ALL of these examples were built with our one-pager template!
Let's dig in.
Example: B2B SaaS CMMS provider
In the below example, a healthcare preventative maintenance software provider has included all of the critical elements of a high-performing one-pager.
From social proof to visual aids and CTAs, use this SaaS one-pager as a baseline for your company if you have strong social proof and talented graphic designers.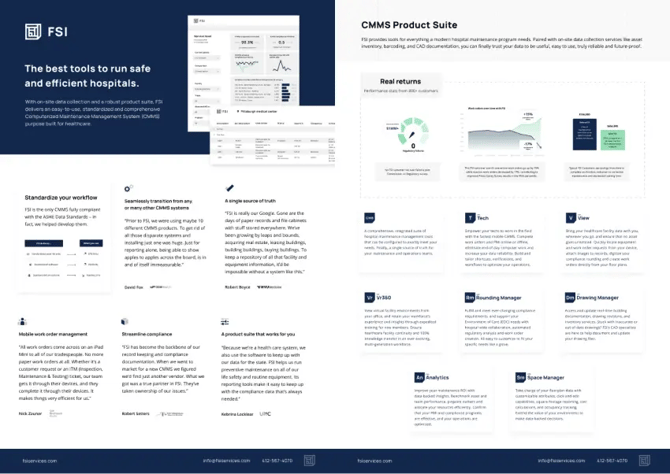 Example 2: B2C fertility clinic provider
The next one-pager we highlight isn't a SaaS provider, but a leading fertility clinic based in Los Angeles, California. Rather than showcasing products, this organization uses the content to showcase their different services and speak to the dreams of their personas.

Example 3: SaaS e-Commerce provider
This is our last (and favorite) one-pager example because of the clean design, social proof, compelling headlines, and clear CTA. The content appears almost as a webpage with buttons and icons, making for an enjoyable and easy read.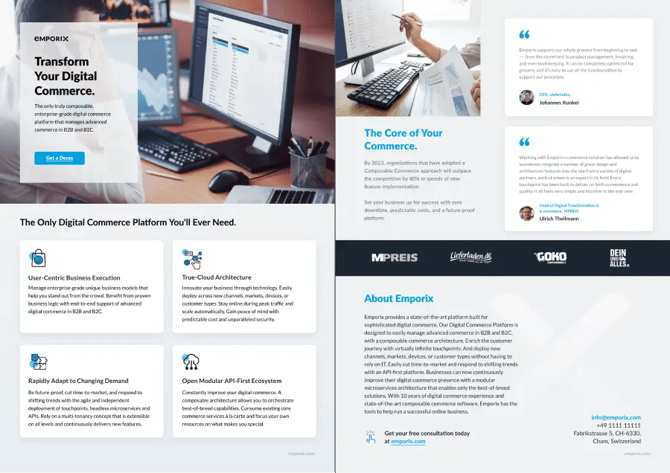 Did you miss our one-pager template?
Whether you're a one-pager pro or just starting out, you'll find that creating one-pagers gets easier over time. Believe it or not, all of the one-pager examples listed above are from our own one-pager template!
To make this process easier for you and your team, download Kalungi's free one-pager template for you and your design or content teams. This will help you streamline the content creation process, and make sure you're including the most important information.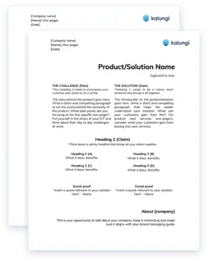 Take our one-pager template with you
Bring your SaaS content marketing from good to great with our one-pager template.
Please note: this one-pager template is designed for copywriters to use, before transferring it to the design team. Your design team can use this as a baseline for all relevant information for the one-pager itself.
Get monthly executive SaaS marketing advice in your inbox
AUTHOR
Rachel McBryde
Rachel brings forward her knowledge of customer success when it comes to her creation of marketing campaigns. Her determination, creativity, and hardworking nature created the building blocks to her progression to becoming Kalungi's content marketing specialist.