Pivot
When I arrived in 2014 the company sold a traditional Windows Server-based contact center solution (and struggling to compete with the big guys like Avaya, Cisco, and Genesys). Now they are one of the top leaders providing a cloud based contact center for Small Businesses.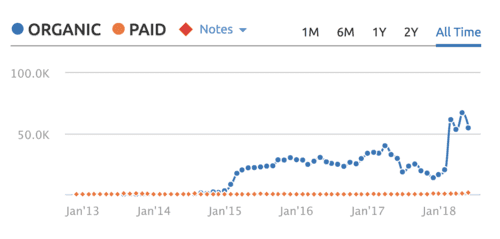 Results
The great work the team has done has led to:
Very low customer churn vs. other Small Business focused SaaS Companies
$0 cost / zero touch Sales with a lean Customer Success Process
90% Organic Marketing based on Educational Content and SEO discipline
The resulting low Customer Acquisition Cost, combined with growing ARPU through Price optimization and up-sell, is the only way to build sustainable SaaS business that services the lower end of the B2B market. The team has done an amazing job!
Organic Marketing Success
The marketing story is worth telling.
3 years after the team at MightyCall did their initial 3 months push of dedicated content marketing and SEO, the "organic demand generation" flywheel is still spinning. The content that drove the initial rankings has helped new content to rank and MightyCall is still seeing some insane growth as Google keeps changing it's search ranking algorithm and reward highly relevant content and solutions.
MightyCall is ranked in the top 3 Search Engine Ranking Positions (SERP) for 646 Keywords. To bid on these keywords in Adwords would cost over $200k/Month. When I started at MightyCall we were spending $6k/Month on Adwords. Now the tables have turned and the team is getting most growth from 100% free organic search.
Of course, not all these keywords convert, but the impact of high value, relevant, non-branded keywords for the Mightycall funnel has been great. Mightycall does not have a sales team. All growth is organic and thus a very low CAC (Customer Acquisition Cost).
How did the content marketing success start?
The initial investment in the summer of 2014 was about $10k and 3 Marketing Team members, in addition to a one time spend of about $30k on new branding, messaging and an updated website. The content that was written focused on well-defined personas and content amplification through relevant influencers. The social outreach was mostly done on networks like Disqus, Quora, Reddit and other higher quality networks.
The rich "atomized" content (blogs, videos, posts etc.) that we published in July-August started to drive keyword rankings in the fall. By taking good care of traffic coming to the mightycall.com website through relevant landing pages, visitors did not bounce, which lead to more page- and domain authority. An example of one of the best performing pages is this one.
The focus on conversion and audience engagement by turning the content into great landing pages helped us rank for more competitive keywords in the winter months.
More details on the original approach are available here.
Congratulations to the MightyCall team on setting a great example of doing a lot with very little resources, and winning the organic, content marketing spoils.