How do you strike the balance between the short-term marketing tactics that have a very quick return – but are also less scalable, and inhibit exponential growth — and others that have a far longer return?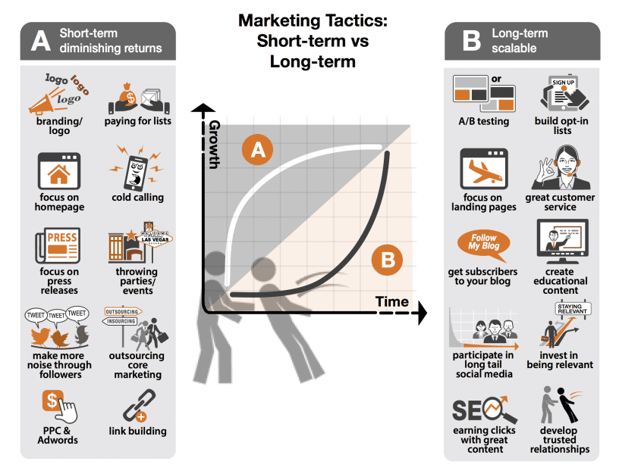 Fortunately, I do not think that these concepts are mutually exclusive – that, in fact, there are many marketing levers that are attention grabbing, but inherently scalable, and – with the right balance — will eventually deliver the kind of consumer loyalty and stickiness that you're looking for. Here are a few examples.
Combine doing Pay-per-click Marketing (SEM) with driving SEO by making sure you send your clicks to pages that are relevant and can start ranking organically. Make sure to turn every paid click into a small A/B test (Market Research) and use it to amplify great content.
Social For Today, Social For Tomorrow: Twitter and Facebook – which live firmly on the upper-left of the curve graphic, are vehicles that are geared for immediacy – more noise, more followers, more likes, etc. In the short term, you may win the popularity contest (which is helpful), but you'll need a "long tail" to whip your way to a socially plugged-in future. Long-tail marketing – using networks like Quora, Reddit, Disqus or even some LinkedIn groups – are where you'll cultivate long-term positive social impact.
Home Pages versus Landing Pages: We've established the importance of a nice homepage – important in the "upper-left" part of our marketing world as it will build your domain authority. But over time, the balance should include multiple dedicated landing pages that help you convert better and ensure relevancy with a targeted component of your customer base.
A Cool Brand Is Only The Start: Of course, you need to launch with a great logo, a well-conceived company or brand name, eye-catching colors and the like. You'll need these items to be taken seriously and to convey a professional attitude. But again, when the scales tip toward the lower-right part of our graph, you need to start A/B testing everything – alternate versions of logos, content, messaging, email headlines, etc. This will ensure you remain current with those people who constitute your loyal consumer base.
A marketing balance – like any effort that requires a modulated approach – can, in fact, be a challenge to achieve, given the pressures at most companies to get it done yesterday. But I hope, between what we've discussed here, and the accompanying chart, that you can find the right fulcrum for your enterprise and resist the entreaties to overspend on today's tactics.