Product Marketing
Top 5 product review sites for SaaS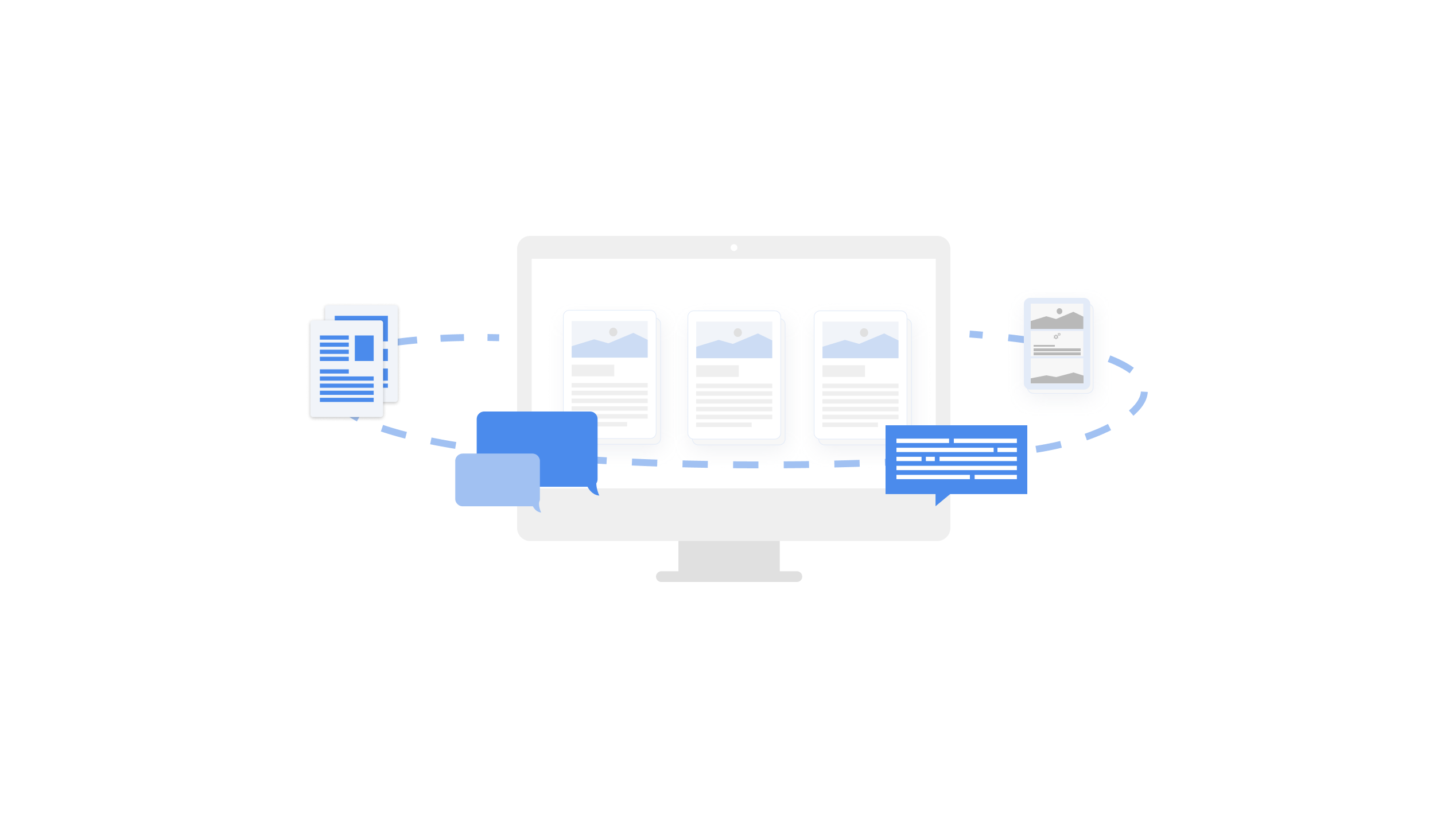 Why are SaaS product review sites important?
With a constant stream of SaaS products being released during these past few years, it can be hard for businesses to stick out amongst their competitors. As a premature or mature company you're looking for opportunities to carve out your own niche or be at the top of your industry so that you can grow beyond your competitors. However, with so many SaaS products being released, how do customers know what the right product is for them? B2B buyers often conduct lengthy research to find the right product, and the first place they look at are SaaS product review sites.
How do product review sites help?
92% of B2B buyers are more likely to purchase after reading a trusted review. Reviews can help build social proof for your product and build brand awareness around your SaaS product. Positive reviews on SaaS product review sites portray your brand in a positive light and can help your product shine amongst your competitors. If you don't have any reviews, it may work against your business and not attract any customers.
SaaS product reviews also play a part in strengthening your website authority and provide insight into prospective buyers. Customers will often reference your product on their site through a link from a SaaS product review site, such as G2, or Capterra. The traffic from these links will validate your authority as a reputable site and can help your product be featured on the first page of a search result. This will help your SERP efforts in the long run when customers are searching for a specific product category or type of software. Furthermore, you can use customer reviews as insight into how your product measures up against the competition.
So, which SaaS product review sites should you use? We recommend these five:
G2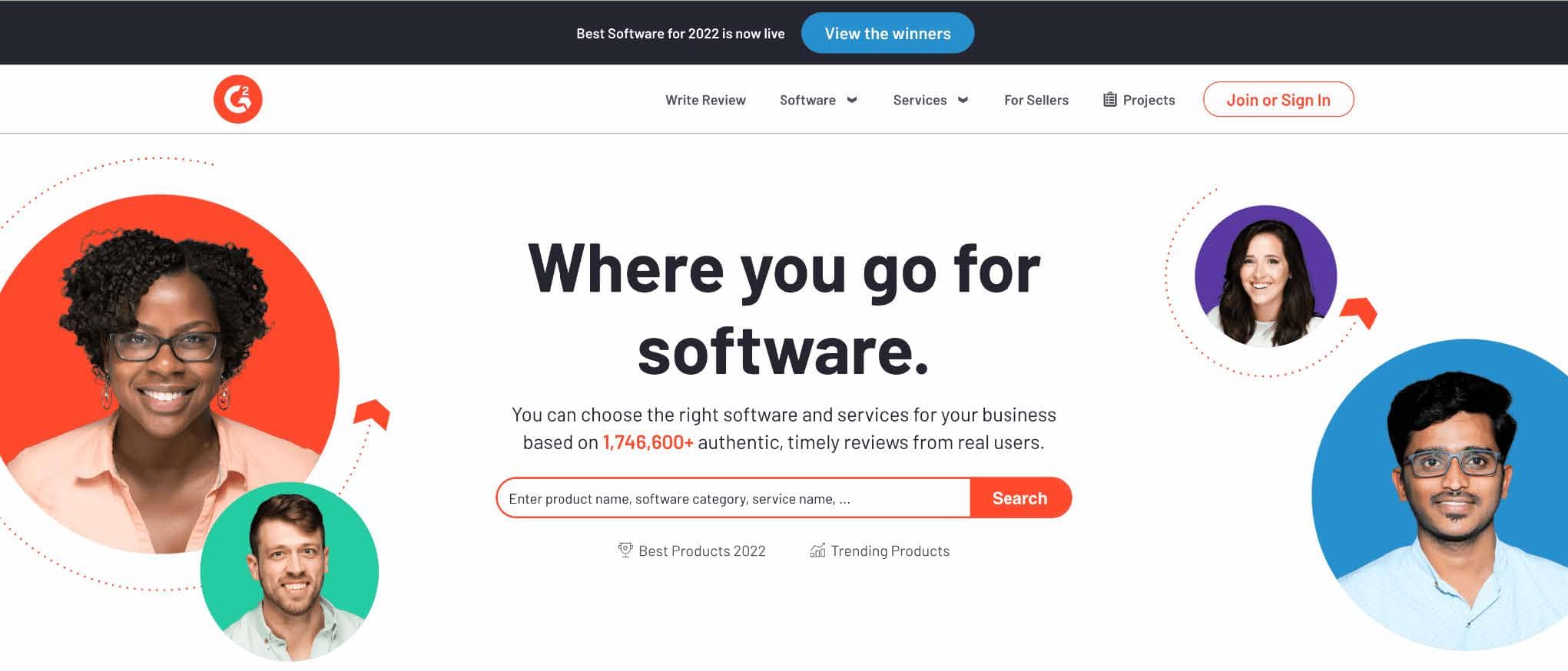 Plans: Free, Essential, Pro, Power
G2 has one of the most comprehensive tech marketplaces where SaaS leaders can research new and trusted B2B products. G2 offers a detailed hub for companies to manage their products and reach new prospects. Even with a free plan, companies can track prospects visiting your G2 site or product website and analyze visitor data. However, bumping up to an essential plan will give you even more in-depth features where you can fully utilize G2 as a marketing tool. In this plan, companies can create custom lead forms, build reference pages, share key quotes, and continue to customize their G2 profile.
There are so many more features that organizations can utilize on G2 to help create a brand presence and become a part of the B2B product community. G2 has different plans ranging from free to essential to a power plan.
We recommend starting with the free plan to get all the basics for your product. Here, you can display product information about features and pricing, attach product screenshots, display earned badges, and review landing pages. Once you've created a good product profile, you can start looking into how to take advantage of G2's advanced features.
Capterra

Plans: Basic (Free), Premium
Capterra is a free-to-use resource for research business software. With 800+ product categories and over 1.5 million reviews, Capterra emphasizes the importance of showing genuine reviews for every B2B product. But what separates Capterra from the rest is the research and guides they offer for each industry. Each industry has in-depth guides and user research. This knowledge bank is free and is highly insightful for any organization.
Speaking of free, Capterra has a simple plan structure that consists of a basic and premium plan. The basic plan offers a free listing and basic product profile features where you can add product information, feature customer reviews, and use a portal to manage your listing. This portal is essential because Capterra is a Gartner company, along with two other product review sites. The premium plan requires a consultation to get started and has added benefits. The main differences are the access to campaign reporting and analytics, competitor analysis, buyer insight and intent tools, and marketing services.
GetApp

Plans: Basic (Free), Premium
GetApp is another Gartner review site targeted towards businesses exploring SaaS options. Though smaller than fellow Gartner platform Capterra, GetApp is still prominent in the field, boasting 14,000+ software profiles and 1.5 million monthly users. With an ecosystem of business apps and software solutions that span many product categories, GetApp gives organizations the ability to compare products side by side, research product features, read verified reviews and explore alternative options that may better fit your needs.
GetApp follows the same plan structure as Capterra, since it is also a Gartner company. They offer a free listing with the basic plan and you can upgrade to a premium plan at any time you wish. If you're looking for a simplified software research tool without all the bells and whistles, then GetApp is the place for you.
Software Advice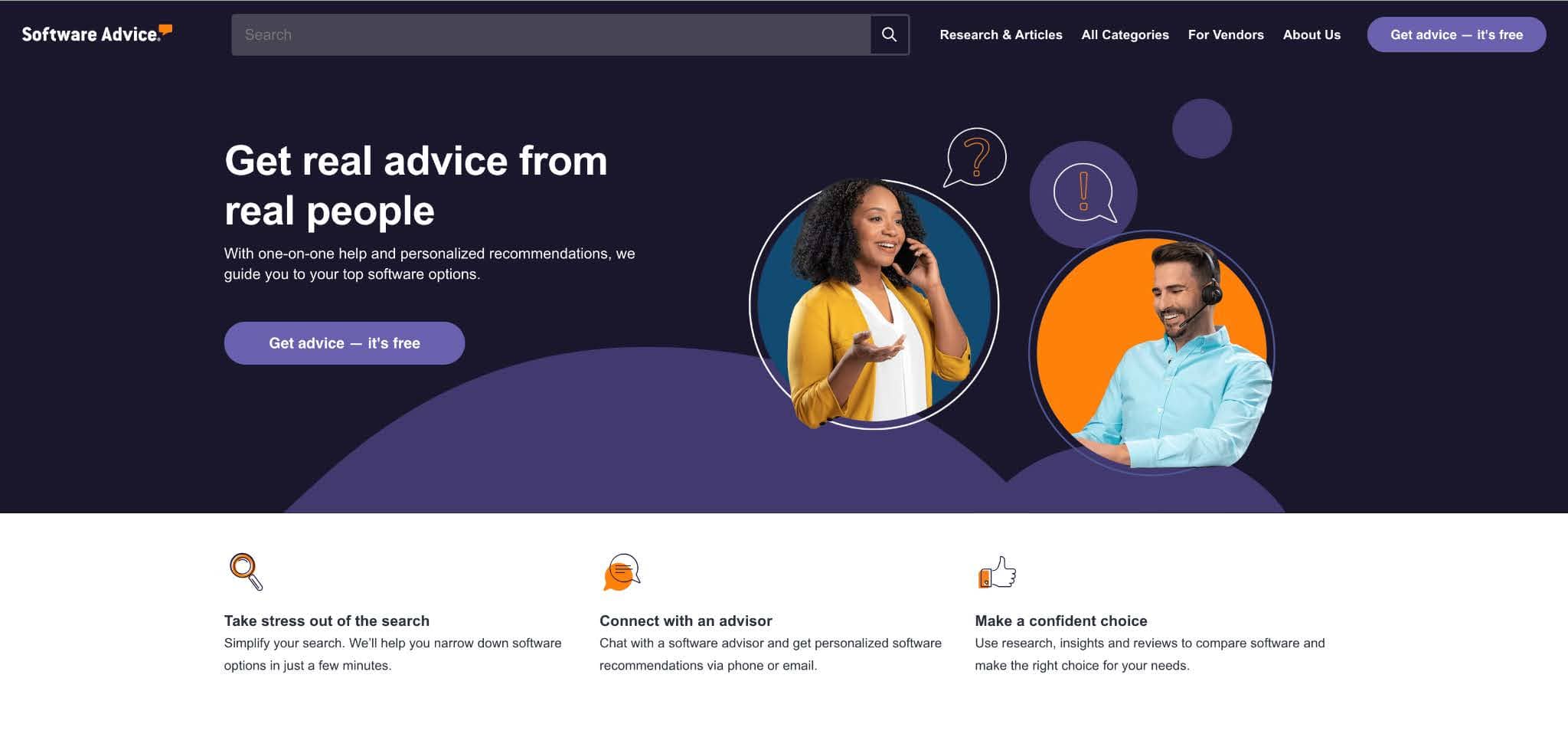 Plans: Basic (Free), Premium
Software Advice, a Gartner company, understands how long it takes businesses to purchase software and offers a consulting service for free. This Gartner company gives you the right advice to find the right software for your business. Software Advice focuses on your needs and presents you with a customized list of software. As a result, their product catalog is not as comprehensive or intuitive to navigate.
The other Gartner companies, GetApp and Capterra, have a far better UI for companies to use and understand. However, Software Advice has helped over 800,000 companies choose the right software with trusted insights. They are still a valuable resource and worth mentioning for any companies looking for software solutions.
Software Advice's main selling point is a free consultation call with personalized recommendations. Businesses could choose to research different products themselves and formulate their conclusions. In the end, it just depends on how one prefers to conduct their research. Software Advice has the same pricing structure as other Gartner companies and offers a free and premium plan.
TrustRadius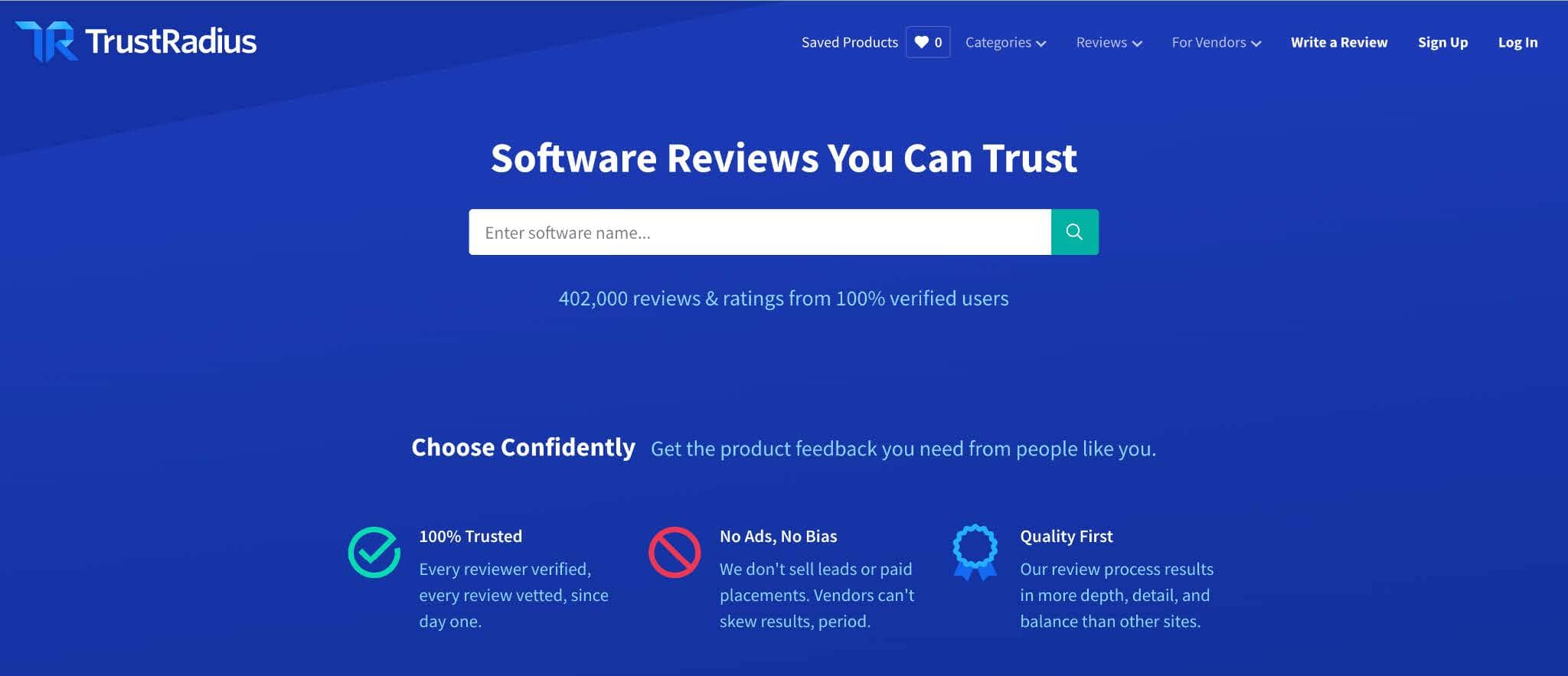 Plans: Free, Premium
TrustRadius is a feature-driven product review site. When organizations use TrustRadius, one will notice that the first thing they see is the product features and pros and cons. TrustRadius puts these features first so businesses can quickly assess each product's strengths and weaknesses.
Vendors (software companies) can also create customizable product profiles and gain product and positioning insights. TrustRadius doesn't have advanced analytical features but gives businesses access to basic customer data to understand their audience. Another highlight of TrustRadius is that they don't sell leads or paid placements because they don't believe in skewing data. This way, the customer does the talking.
TrustRadius offers a free and premium plan for vendors or sellers. The free plan allows you to create a product profile with screenshots and videos and include other information about your product. The premium plan offers additional marketing features such as CTAs, review syndication, product and positioning insights, and many more.
The importance of product review sites for Saas companies
SaaS product review sites are essential to get your product in front of the right buyers at the right time. SaaS review sites help your product gain exposure and increase brand awareness when used as an effective marketing tool. Product profiles allow companies to list interesting features and differentiate themselves from competitors. It's a useful tool for many companies to use to connect with potential prospects who are researching software products. With the landscape of SaaS products constantly changing, creating a presence on SaaS product review sites will help your company stand out in the market as it shifts and grows.
If you're looking to really boost your product awareness, take another look at SaaS product review sites. Looking for other ways to bolster your company's product marketing? Check out our content on product marketing for more resources and guides.