B2B SaaS marketing agency services
A proven playbook and approach - tailored and optimized for your software company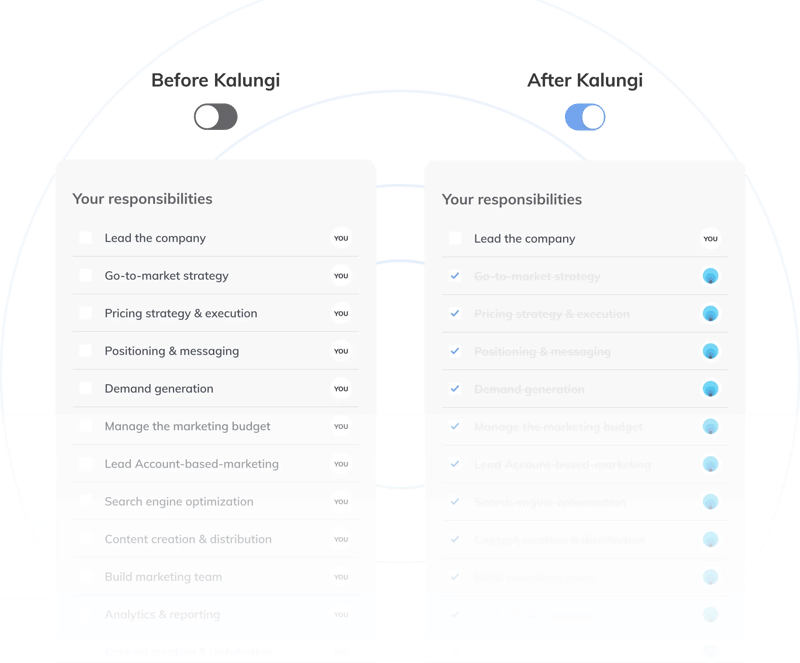 WHAT WE DO
A complete SaaS marketing team, on-demand
We help software entrepreneurs and ventures that don't have the time or expertise to build an in-house marketing team - to become the outsourced marketing arm and help grow any B2B SaaS company through any stage of marketing maturity.
We sign up for results and pay-for-performance.

HOW WE HELP
Get the marketing support you need
SERVICES
A full suite of services
Most other agencies specialize in only one set of services, limiting end-to-end accountability. You waste time and energy dealing with multiple vendors and managing timelines. It's next to impossible that all those services will dovetail the way you need them to, when you need them.
What makes Kalungi very different from other agencies, is while we only service a very specific type of client, we do everything they need. For B2B SaaS Ventures, we do it all—from competitive research to customer journey mapping, persona research to creating a podcast series.
What does a full engagement include?
A full engagement includes marketing leadership, GTM execution, content strategy, design, rebranding, marketing automation and operations, list building, account-based marketing (ABM), SEO, partnerships, analyst relations, and so much more. A better question to ask would be: "What's NOT included?"
What do you mean by a pay-for-performance model?
We put our money where our mouth is – our experience allows us to sign up for results. As an engagement progresses, an increasing percentage of our earnings are dependent on hitting specific performance-based KPIs agreed upon by both teams in the form of objectives and key results (OKRs).
What if I have a specialized project for my company in mind?
We'll meet you where you are – and have the services to provide you with results. Let's chat thorugh the scope of your project and come up with an outcome-driven plan.
Will you work with my in-house team?
Absolutely – we're committed to coordinating with your existing marketing presence and becoming a united team for your organization.
We would love to work with you
Join 70+ successful B2B SaaS companies on the path to achieving T2D3 with our SaaS marketing services.