Executive marketing audit
A 95-point inspection for your marketing function, built for B2B SaaS companies. Make sure you're set up for success, prioritizing the right initiatives, and have the right tools to accelerate your marketing function.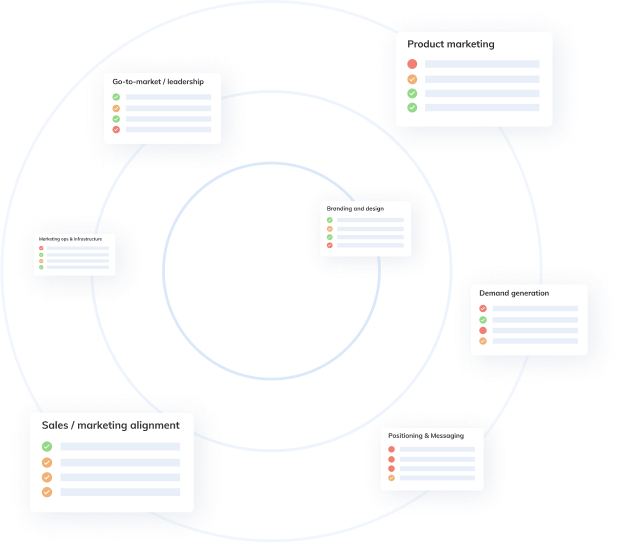 What's it for?
When you lead a company or consider acquiring a business, the state of the marketing function is often the hardest to assess.
Given the broad nature of marketing responsibilities, the impact on current and future success, and the number of opinions that various stakeholders typically have about marketing, many CEOs and investors ask us for guidance on assessing the status of a B2B SaaS marketing function.
I've found the work Kalungi did to be incredibly helpful. I felt 10x more prepared to step into the CEO role on day one with much better priorities and a view into what is missing.
Diligence input survey
You'll receive a survey that will provide us with key information about your focus company. We'll request access to a series of documents, dashboards and files.
Review, research and analysis
In addition to the information you give us, we'll conduct our own analysis and assessments using our industry experience and specialized marketing tools. We'll assess 95-points of your company's marketing function.
Scorecard and report
Our findings will be summarized in a standardized report card. This will tell you what's working and what isn't based on a 5-point scale covering a wide variety of focus areas.
WHAT'S ON THE SCORECARD
An inspection report for your go-to-market
We'll use the information you provide, readily-available data, and what we're able to access using our specialized toolset to develop a high-level report to assess the status of the following functions.
Are the growth priorities clear? Is there a clear vertical focus? Have you found product-market fit?
Do you have the relevant marketing skills being filled by members of your team? What needs to be filled first?
Are your product marketing, positioning, and messaging appropriate for the maturity of your market?
What content already exists? What needs to be created? Are the SMEs on the team being leveraged for the right content?
Is traffic being created (and tracked)? Is it converting? Is there anything that needs fixing?
Is the funnel defined and measured properly? Are there leaks that need to be plugged?
What are your current rankings? Where are the low-hanging SEO fruit?
What is being spent? Is money being spent effectively? Is there a dependence on pay-to-play?
Is there room for additional marketing investment? Where should additional funds be allocated for greatest impact?
How much should you be spending on marketing? We'll recommend a marketing budget based on our experience with dozens of B2B SaaS companies.
Our CMOs will recommend a 90-day go-to-market plan based on our findings to reflect how we would lead your marketing function.
Which channels provide the most value and opportunity for growth? Which should be scaled up? Or down?
Considering a full engagement?
The marketing audit is the first thing we do when we sign on to lead your marketing.
If you decide to use our Marketing Leadership and Agency services together after the audit, we'll discount the cost of the marketing audit from your first month with us.
Included in all full engagements
Kalungi Marketing Audit
The equivalent of a prospective home inspection for your company's marketing function. Quickly assess your company's marketing capabilities.
---
Informational survey

Review of shared marketing assets

Content marketing audit

Product marketing audit

Positioning & messaging audit

SEO & paid search audit

Online competitive presence audit

Scorecard with notes on each functional area

CMO 90-day plan recommendations

1-hour report readout & consult