Build your B2B SaaS go to market with a playbook that's done it dozens of times before
A robust 6-month marketing blueprint with guides, templates and examples for building your marketing function at scale. Paired with weekly 1-on-1 coaching sessions with experienced SaaS marketing leaders, inbound and outbound specialists.
Get a custom tour of the playbook coaching package
Schedule time with our team to get a tour of the playbook.
WHO IT'S FOR
The Kalungi Blueprint is specifically designed for B2B SaaS companies with annual recurring revenue between $500K and 10M.

Investors
You're looking for a proven, low-risk approach to kickstarting scalable marketing efforts in your portfolio companies.

CEOs
You do CMO work on the side of your desk. Or your marketing lead is skilled in one area but needs support to build a full-stack marketing function.

Marketers
You're a T-shaped marketer who needs strategic support from a seasoned marketing leader or to buy-in on a long-term growth plan.
WHAT IT'S FOR
Build and execute your go to market
Balance short-term wins and long-term scale with processes, templates, methodologies and the right sequence. Then build your marketing team with the right talent to take it to the next level.
Nail your niche
Position your product, define a go-to-market strategy, set growth priorities, and create a marketing foundation
Find your ideal customers
Find and reach your best-fit customers with Account-Based Marketing (ABM)
Capture existing demand
Build a scalable long-term engine to capture existing demand by showing up where prospects are looking
OVER 100 IN-DEPTH PROJECT CARDS
OVER 100 IN-DEPTH PROJECT CARDS
A playbook built in Trello for simple project management
The right sequence
Early stage companies need everything, but have limited resources. Get a clear picture of which initiatives are absolute "needs" vs. "nice to haves", understand which you need to do right now and which can be postponed.
All-around approach
You need to build for short term growth and long term scale. That means martech, content, inbound, outbound, demand gen, partnerships and everything in between.
Knowledge and resources
Each card has guides, checklists or templates to get your team up and running and fill the gaps where your team is less experienced.
HOW IT WORKS
Your marketing lead is responsible for leading the charge. We're responsible for coaching them and providing tools for success at each step. Pairing your marketing lead with an advisor who's executed the playbook across multiple B2B SaaS engagements is the perfect formula for professional growth and business impact

You'll get full access to our 6-month go-to-market blueprint for B2B SaaS companies, including resources, templates and guides to help you build your marketing foundation.

Marketing leader coach
Every situation and person is different. Kalungi will pair your marketing lead with a coach whose experience supplements their skillset and matches your company's marketing needs.

Weekly cadence
Weekly 1-on-1 meetings create a rhythm for discussing top priorities and related issues. Video calling lets your marketing lead meet with their advisor from anywhere.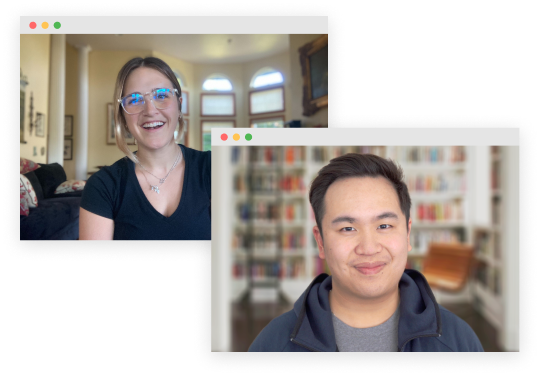 Subject-matter specialist support
Your marketing lead will come to areas of the playbook where they need additional support from a specialist. We'll bring in experts from our team to unblock you at dead-ends. Your coach will customize sessions based on your specific challenges or marketing team skill gaps.
A proven toolkit for sustainable marketing success I didn't have the time or expertise to undertake marketing. Kalungi has a very well thought out approach… and the fact that you can get their team on a fractional basis is unbelievable."
Kalungi will take what you have and where you are and bring you where you need to be. They have an extremely well-thought-out process that was evident from our very first question."
Having a great product, we wanted to make sure we didn't miss any crucial stages in our marketing setup. And Kalungi were perfect for the business. They have a strong framework to help SaaS businesses and we will highly consider using them again."
Kalungi has a recipe, resources that we could draw upon, and the willingness to mentor and bring up to steam our in-house marketing people. "
Talk with a team member about kickstarting your marketing with SaaS playbook coaching